Shopping Cart
Your Cart is Empty
There was an error with PayPal
Click here to try again
Thank you for your business!
You should be receiving an order confirmation from Paypal shortly.
Exit Shopping Cart
SURVIVOR'S R US​

INCORPORATED
SUPPORTING THE FIGHT AGAINST DOMESTIC VIOLENCE
| | |
| --- | --- |
| Posted on August 8, 2019 at 7:55 PM | |
Good Morning to you all!


Today is August 9th, also recognised as Red Nose Day around the world. In Australia, we raise awareness for those who are stricken with the tragedy of the death of a child. Annually, 3,200 Australian families experience the sudden and unexpected death of a baby or child. This has to stop. Through world-class research, advocacy and education we can put an end to this. Red Nose Day helps to raise awareness and funds for this very purpose.
Through the fundraising efforts of charities such as Red Nose Australia (Formerly SIDS & Kids [2016]), we have been able to reduce SIDS by 85% and raise over $17 million to invest in lifesaving research. There is still a ways to go, so we continue to recognise this day in an effort to stop little lives being cut short once and for all.
If you are able, please donate to this very worthy cause. And if you can't, show your support by wearing a red nose, or sharing this post so that others can be informed of this important day.
Thank you, and have a lovely day.


- The Team at Survivor's R Us.
www.facebook.com/RedNoseAus/?__tn__=HHH-R
| | |
| --- | --- |
| Posted on June 25, 2019 at 9:20 PM | |
The kids of Bellata Primary School are wanting to go to Canberra in Term 4 of this year. Due to the drought some of the families are finding it really tough financially. We would love to be able to help these families out so that the kids can go on this excursion. We believe that every child should have the chance to experience going to our nation's capital.
| | |
| --- | --- |
| Posted on June 17, 2019 at 7:10 PM | |
Every one is invited to our Bellata Community Drought Relief. It so going to be a fun weekend!
The days are: 26th, 27th, 28th July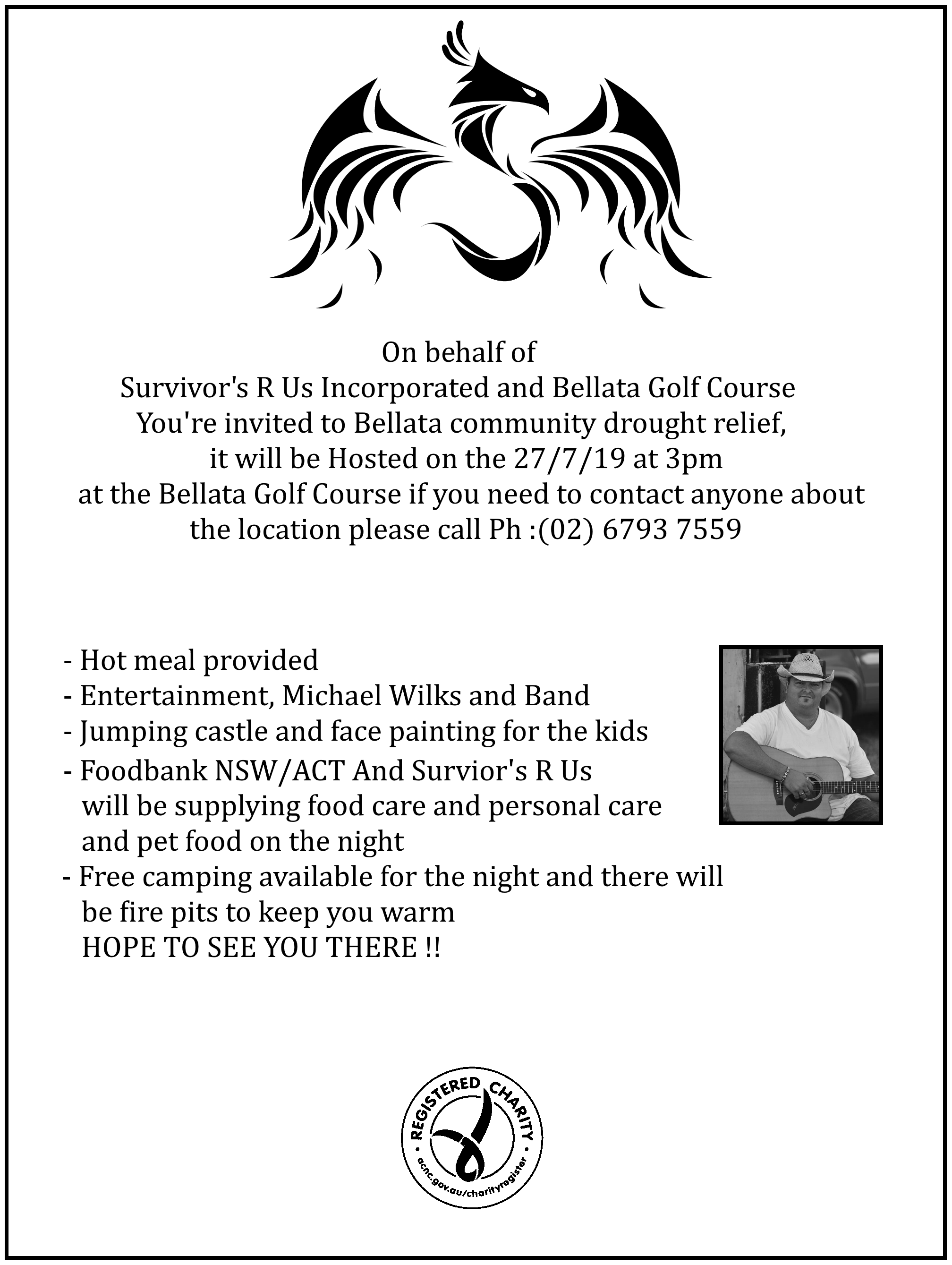 | | |
| --- | --- |
| Posted on June 4, 2019 at 9:00 PM | |
Hi everyone!

We are in need of donations to assist with drought relief for the Bellata Community.
We're asking for donations of food, personal care items, and animal food/feed, but are willing to accept anything that will help the people of Bellata.
Please feel free to contact us if you would like to assist.
Thank you,
-The Survivor's R Us Team.
| | |
| --- | --- |
| Posted on November 16, 2017 at 9:20 PM | |
This Friday, we held a BBQ for International Mens Day, which is held on the 19th of November, 2017 (Sunday).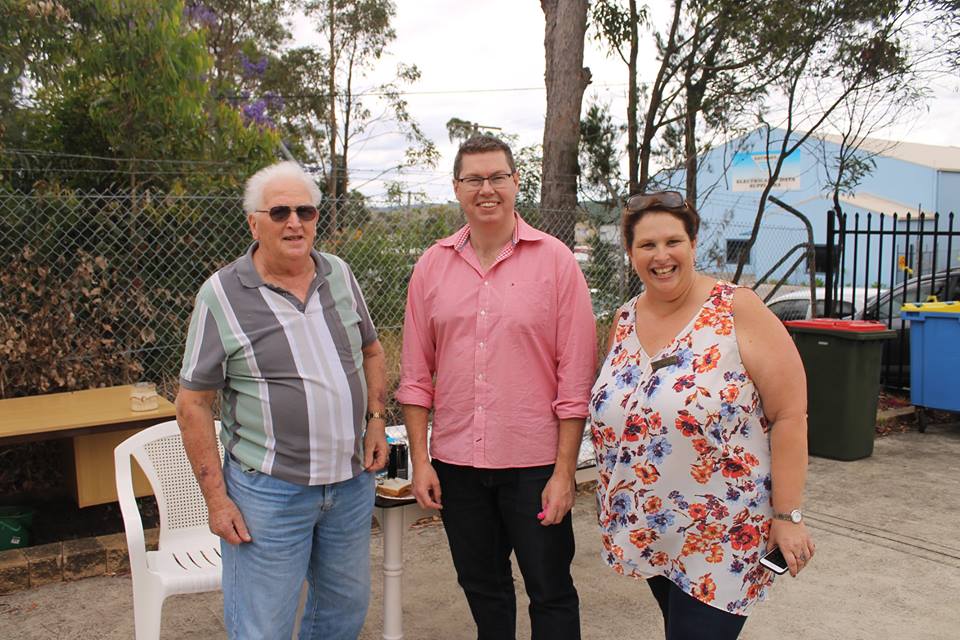 We had a few guest speakers as well:
Mick Wilks - Country Music Artist
Trevor Jones - On-site Counsellor
Mathew Waugh - Ability Links.
And the Federal Member for Shortland, Pat Conroy, stopped by Survivor's R Us to help celebrate International Men's Day.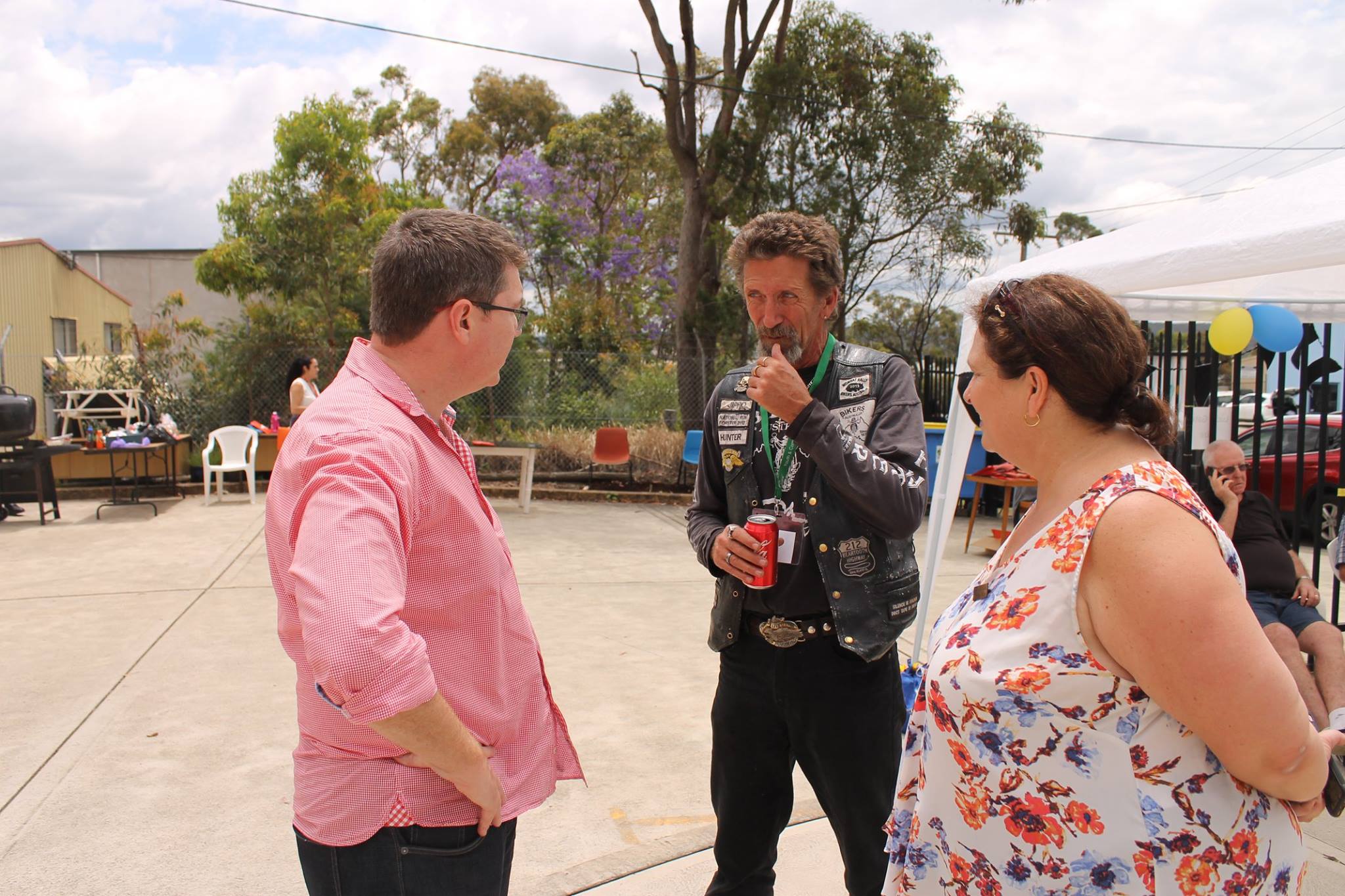 We had a Door Prize for attendees, as well as a few donated prizes (Paintball voucher, Event Cinemas Gift Card, Steggles Voucher, Bunnings Gift Cards, 2 for 1 Trampoline session) for a Raffle for those attending on the Day.
A video was also published on Facebook Live
www.facebook.com/Survivorsrusincorporated/videos/1757321104576314/

| | |
| --- | --- |
| Posted on July 27, 2017 at 12:55 AM | |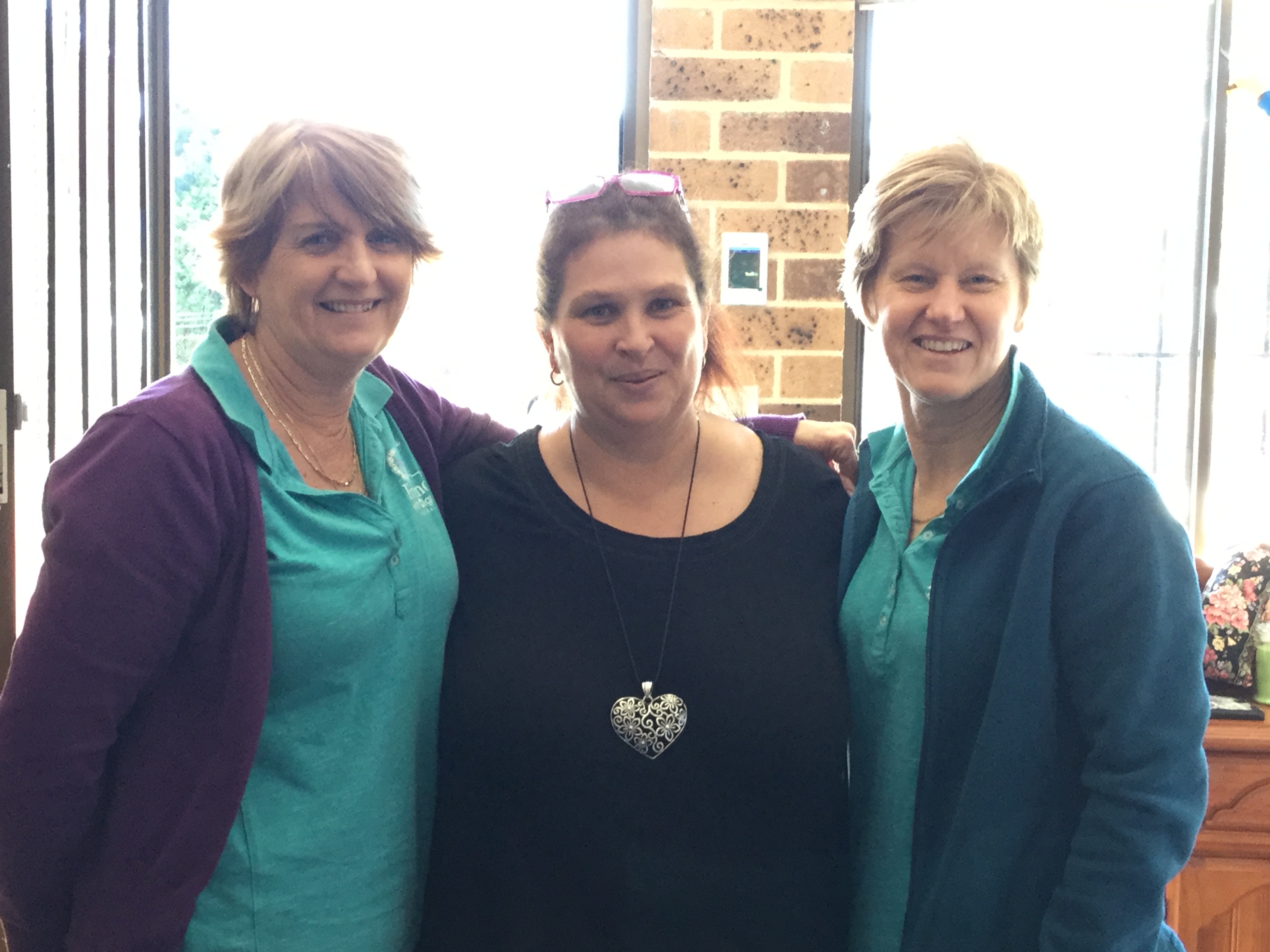 Thankyou to our visitors, Lisa and Sue from https://www.facebook.com/FriendsWithDignity/" target="_blank">Friends with Dignity in Newcastle, we are delighted to be working with you in the future.
| | |
| --- | --- |
| Posted on July 26, 2017 at 10:20 PM | |
Survivor's R Us is proud to be associated with OzHarvest and their efforts in helping those in need with their Food Rescue program.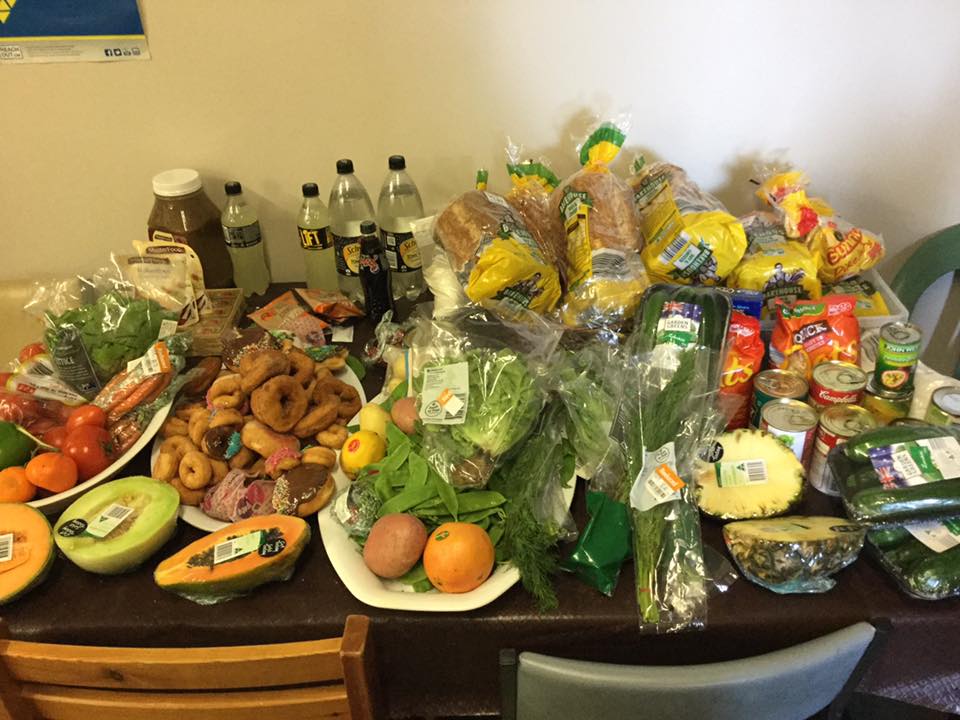 As a local charity organisation, we are invested in supporting the local community, and the people at OzHarvest are doing their best in finding ways to rescue unused and surplus food and produce from all types of food providers including fruit and vegetable markets, supermarkets, hotels, wholesalers, farmers, stadiums, corporate events, catering companies, shopping centres, delis, cafes, restaurants, film and TV shoots and boardrooms.
On occasion, OzHarvest will deliver their Rescued Food to Survivor's R Us, and those details are posted on https://www.facebook.com/Survivorsrusincorporated/" target="_blank">our Social Media pages, We often receive a variety of food and produce during the week and promote this as soon as it is available.
OzHarvest doesn't just rescue food, they also have NEST, food and cooking training sessions to introduce people to cooking with fresh produce and making quick, nutritious and healthy meals for themselves. Their chefs introduce people to cooking new or interesting meals, how to manage leftovers, how to balance convenience with nutritional needs and much more.
OzHarvest has been operating in Newcastle since 2010 and we are proud to have OzHarvest supporting Survivor's R Us as an establishing Charity Organisation and helping us out.
| | |
| --- | --- |
| Posted on July 24, 2017 at 11:30 PM | |
This Month, we're also helping 2 Local Charity organisations.
First up is Supporting https://www.gofundme.com/medical-bed-needed-for-hayley" target="_blank">medical expenses for Hayley through their GoFundMe page, in purchasing a new bed.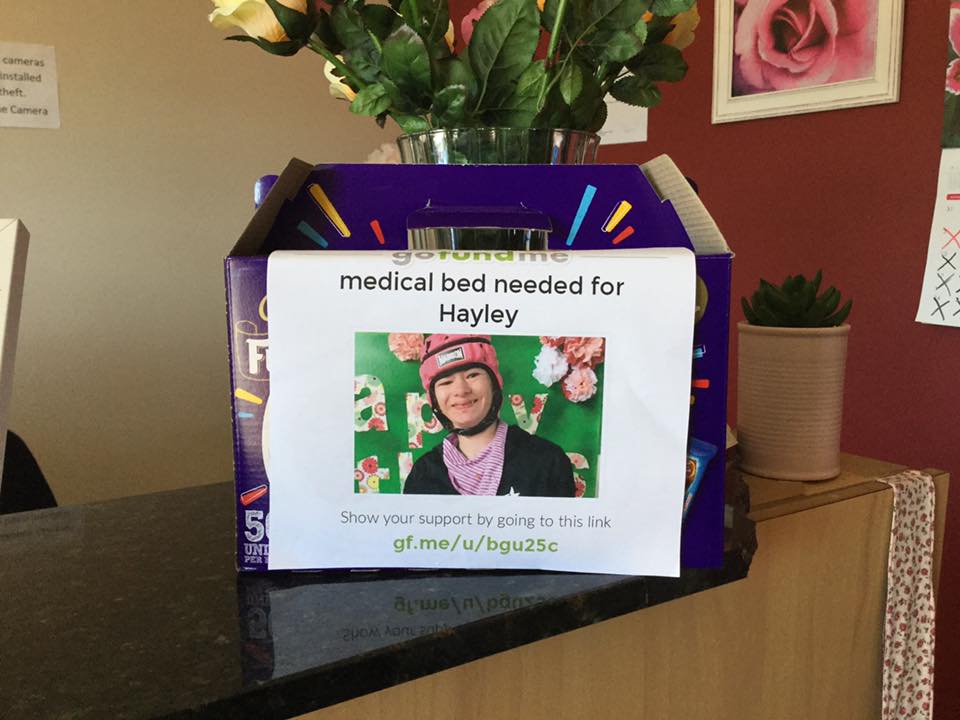 You can purchase a Cadbury's Chocolate bar at the front desk to help support Hayley for $1.
In addition, we also have gift items you can purchase for Daffodil Day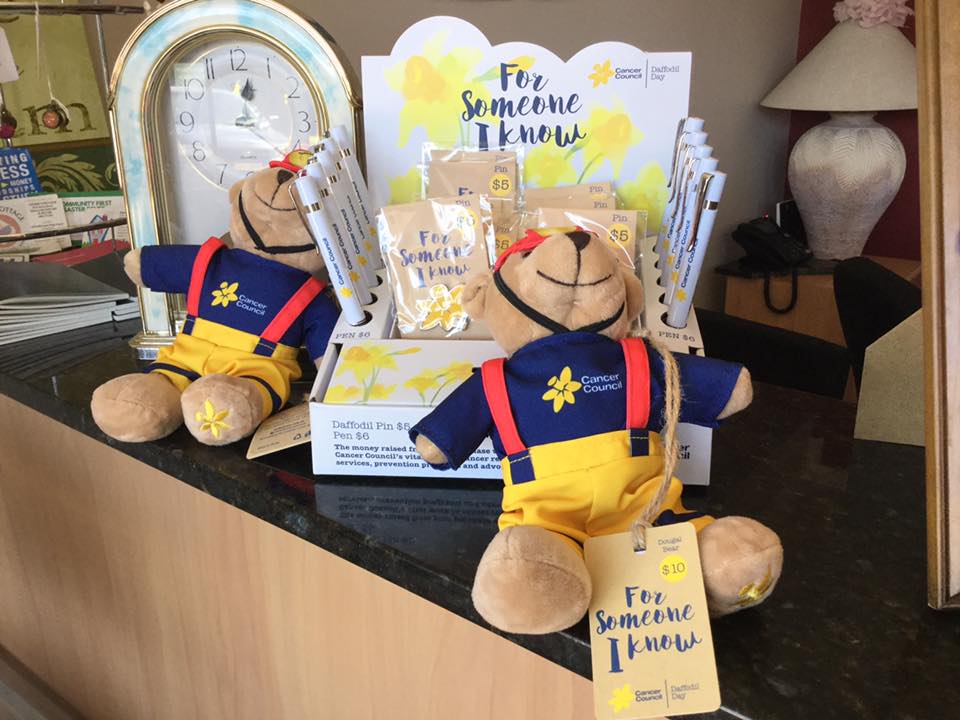 Daffodil Day Pens, Pins and the Toy Bears are available at the Front Desk Reception.
| | |
| --- | --- |
| Posted on July 20, 2017 at 8:55 PM | |
Survivor's R Us Incorporatred was invited to Zonta International Newcastle and Hunter branch meeting they had a French Night it was an amazing night and it is a pleasure to be working with your organisation. Zonta approached us and asked could we store furniture to help set victims up into there homes so we are so happy to be working with Zonta helping people in the community so far we have helped three families, with furniture and with our food and clothing from our warehouse and sheets and blankets its great to be able to help in the Community .
A huge big thank you to Zonta International Newcastle and Hunter Branch and Brown Sugar Restaurant Warners Bay .
From the team at Survivor's R Us Incorporated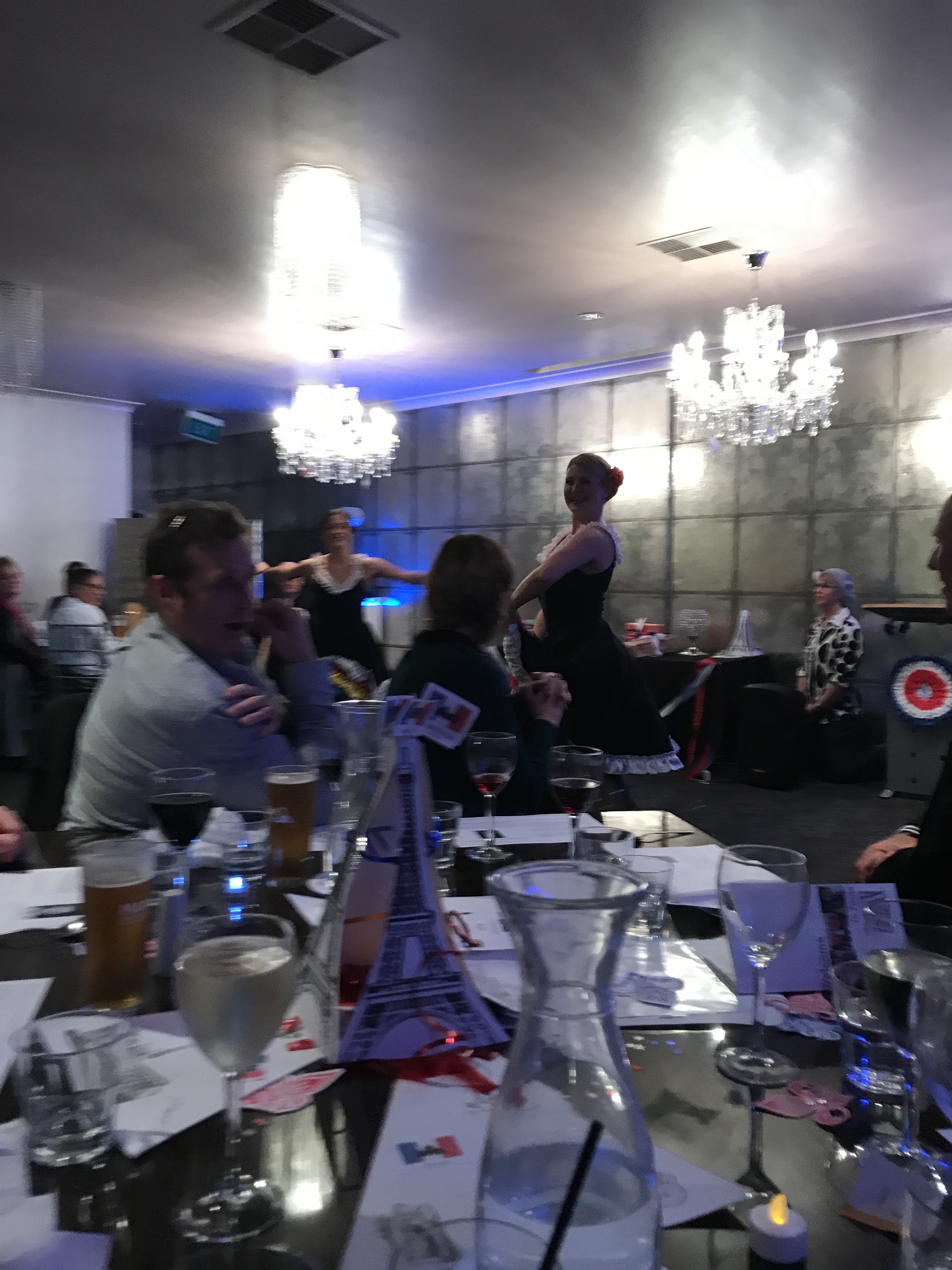 0

/