Shopping Cart
Your Cart is Empty
There was an error with PayPal
Click here to try again
Thank you for your business!
You should be receiving an order confirmation from Paypal shortly.
Exit Shopping Cart
SURVIVOR'S R US​

INCORPORATED
SUPPORTING THE FIGHT AGAINST DOMESTIC VIOLENCE
| | |
| --- | --- |
| Posted on September 19, 2019 at 7:50 PM | |
Good Morning Everybody!
Recently we were nominated and made it into the finalists of the 2019 Hunter Region Business Excellence Awards in TWO of their categories; Customer Service Whole Business, and Business Woman of the Year. We are very excited to be attending the award ceremony tonight. Congratulations to all of our fellow finalists, and good luck!
We have been extraordinarily lucky to have also been nominated for 2017's "Not-For-Profit Business" Hunter Region Excellence Award and 2018's Hunter Region Business Excellence "Business woman of the Year" and "Not-For-Profit Business", we hope to inspire and exceed the expectations placed on us in 2019 and 2020 and beyond.
- The Team at Survivor's R Us.
| | |
| --- | --- |
| Posted on July 18, 2019 at 7:15 PM | |
Next week is the last chance to bring in any donations for the Bellata Community Drought Relief, our lovely team will be packing up the truck on Thursday afternoon and heading off nice and early Friday morning on the long convoy to Bellata! If you have anything that you'd like to donate, now is the time to head over to our site at Cardiff and meet with our fine staff. Our Founder and Owner, Ann-Maria, will be truckin' off bright and early at 4:00 am Friday morning to deliver your kind and helpful donations to the folks out at Bellata.
Thank you again to those who have already donated, and we hope to see some of you at Bellata Golf Club for the big event! 
-The Team at Survivor's R Us.
| | |
| --- | --- |
| Posted on June 27, 2019 at 6:40 PM | |
Our next Networking Breakfast is coming up on the 9th of July. Thank you to those who have already RSVP'd.
We are excited to announce that our special guest for the day will be none other than the CEO of 'Nova For Women and Children', Kelly Hansen!
We look forward to seeing you all there for a lovely and productive morning!
-The Team at Survivor's R Us.
| | |
| --- | --- |
| Posted on June 17, 2019 at 7:10 PM | |
Every one is invited to our Bellata Community Drought Relief. It so going to be a fun weekend!
The days are: 26th, 27th, 28th July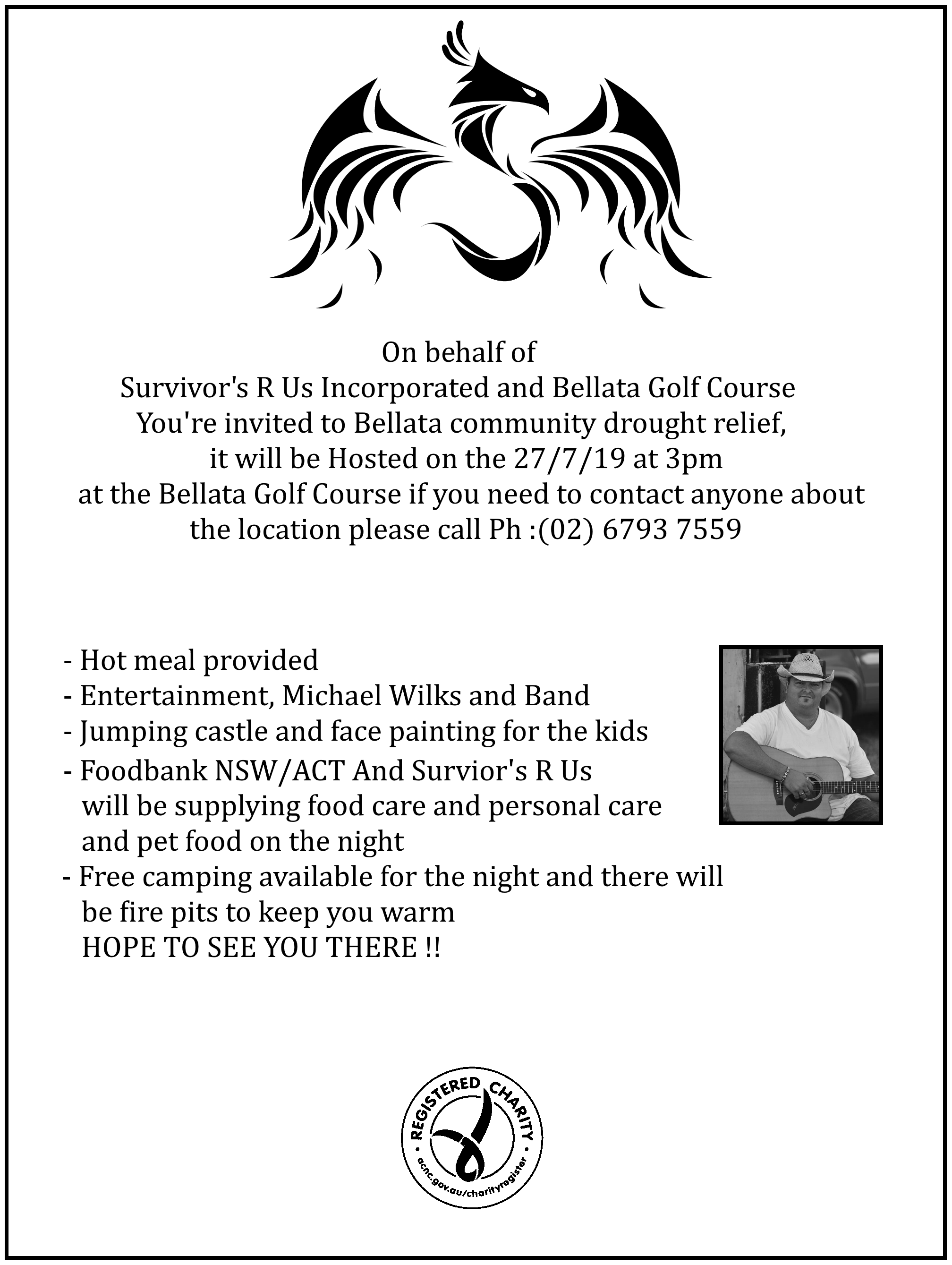 | | |
| --- | --- |
| Posted on June 4, 2019 at 9:00 PM | |
Hi everyone!

We are in need of donations to assist with drought relief for the Bellata Community.
We're asking for donations of food, personal care items, and animal food/feed, but are willing to accept anything that will help the people of Bellata.
Please feel free to contact us if you would like to assist.
Thank you,
-The Survivor's R Us Team.
| | |
| --- | --- |
| Posted on May 24, 2019 at 7:15 PM | |
WOW what a fantastic Biggest Morning Tea we would to thank everyone who attended our beautiful morning and we wanted to let everyone know we raised $500 for the Cancer Council, so thank you so very much from the Team @ Survivor's R Us Incorporated.
| | |
| --- | --- |
| Posted on December 30, 2018 at 7:30 PM | |
Come and support Nova for Women and Children a wonderful organisation that helps Domestic Violence Victims and Homeless.
When Survivor's R Us Incorporated are looking for a refuge, we call Nova.
We are here to support Nova tonight. — feeling blessed at McDonald Jones Stadium.
http://www.facebook.com/events/298338740816476/

| | |
| --- | --- |
| Posted on December 20, 2018 at 7:20 PM | |
We can't wait please join us 
http://www.facebook.com/events/283446302358292/

| | |
| --- | --- |
| Posted on December 4, 2017 at 10:55 PM | |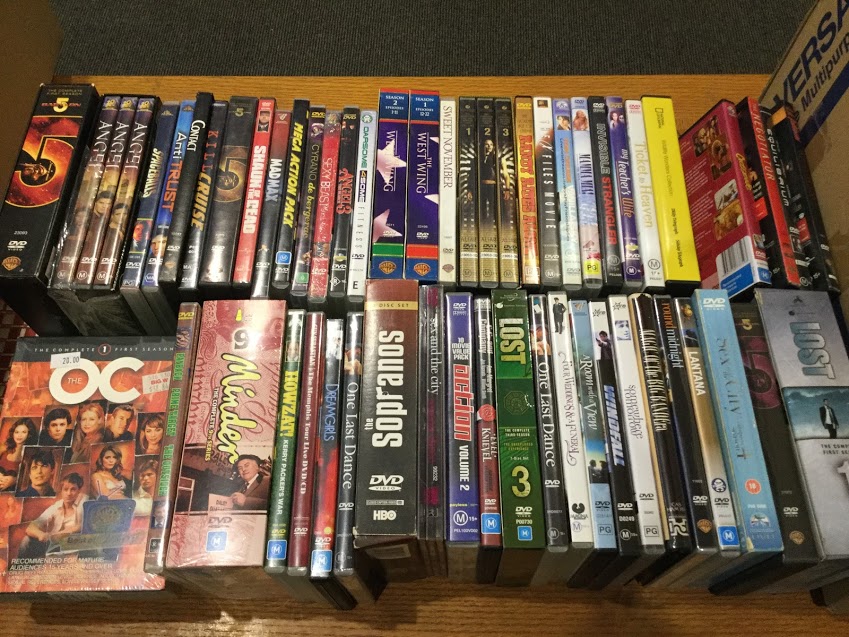 As you can see above, we have a variety of DVD's and TV Box Sets on sale, from $1 to $40 for a complete series box set.

We also have plenty of Books, more than will fit on our shelves, starting at $1 each.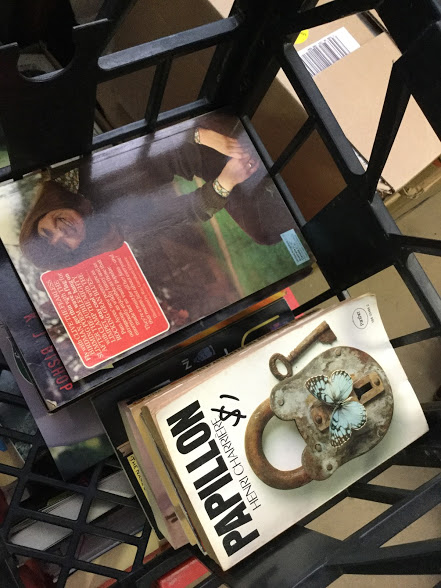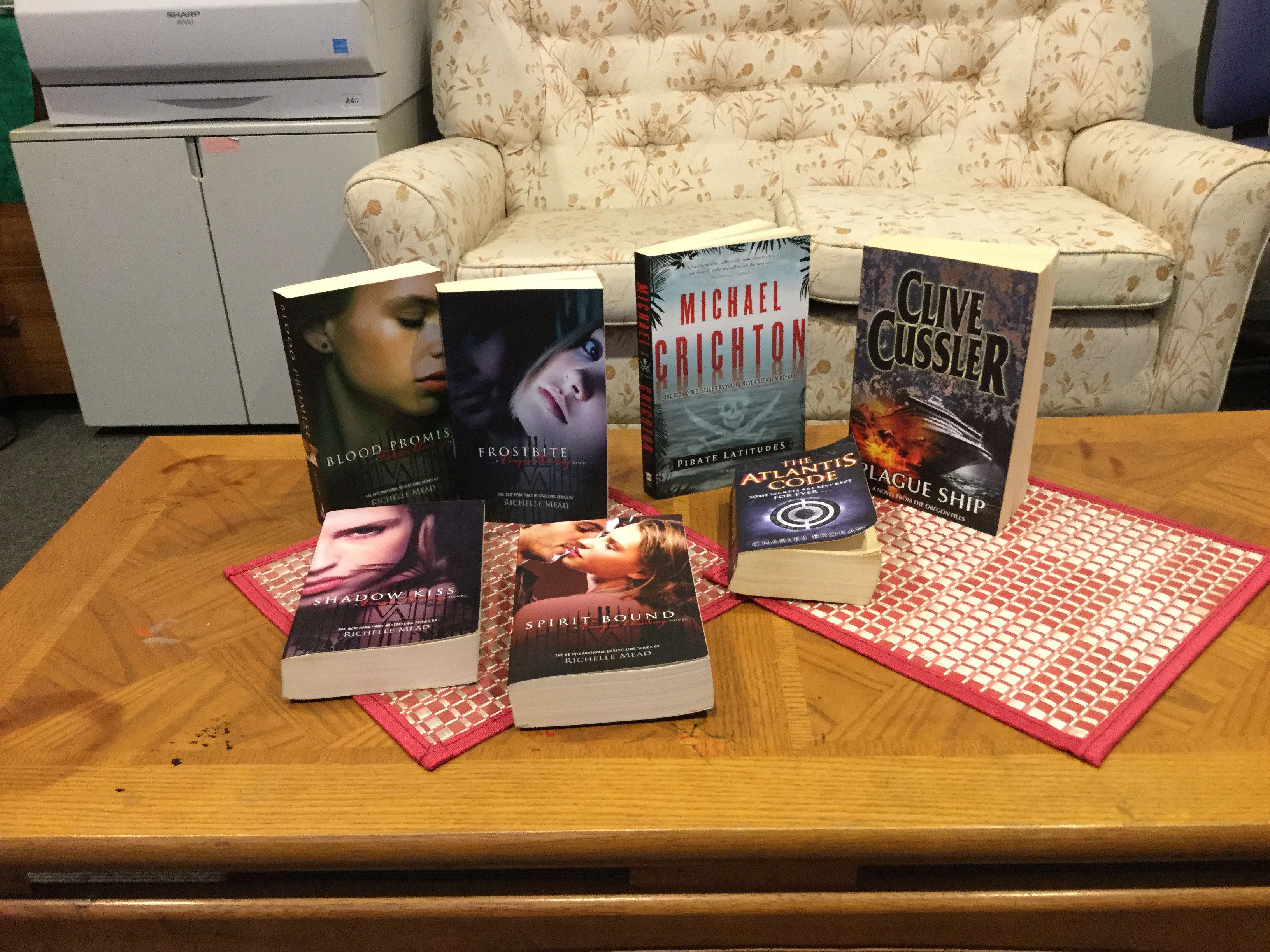 And much more on sale, including puzzles, toys, story books, games. 
| | |
| --- | --- |
| Posted on November 16, 2017 at 9:20 PM | |
This Friday, we held a BBQ for International Mens Day, which is held on the 19th of November, 2017 (Sunday).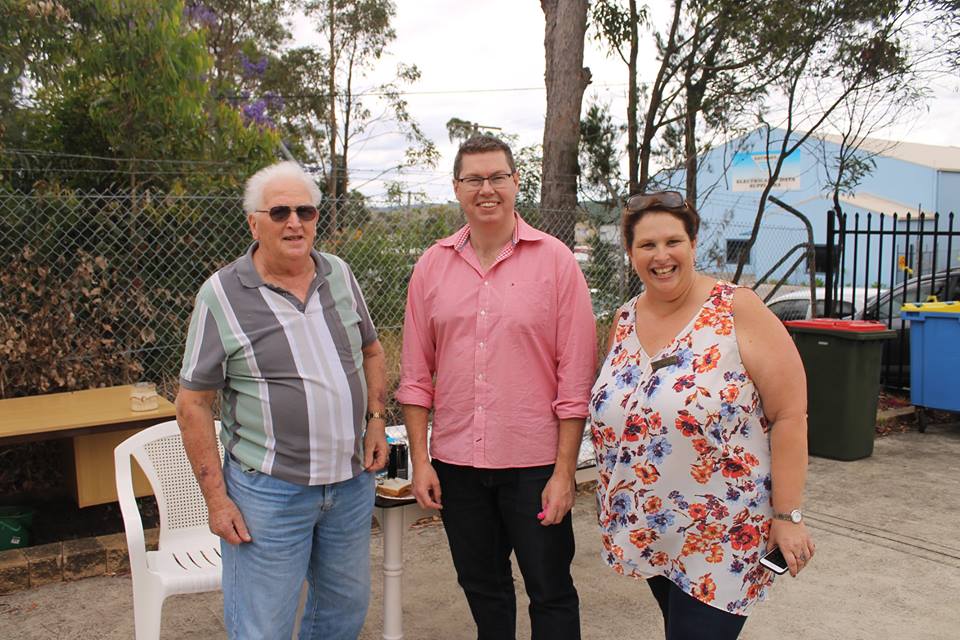 We had a few guest speakers as well:
Mick Wilks - Country Music Artist
Trevor Jones - On-site Counsellor
Mathew Waugh - Ability Links.
And the Federal Member for Shortland, Pat Conroy, stopped by Survivor's R Us to help celebrate International Men's Day.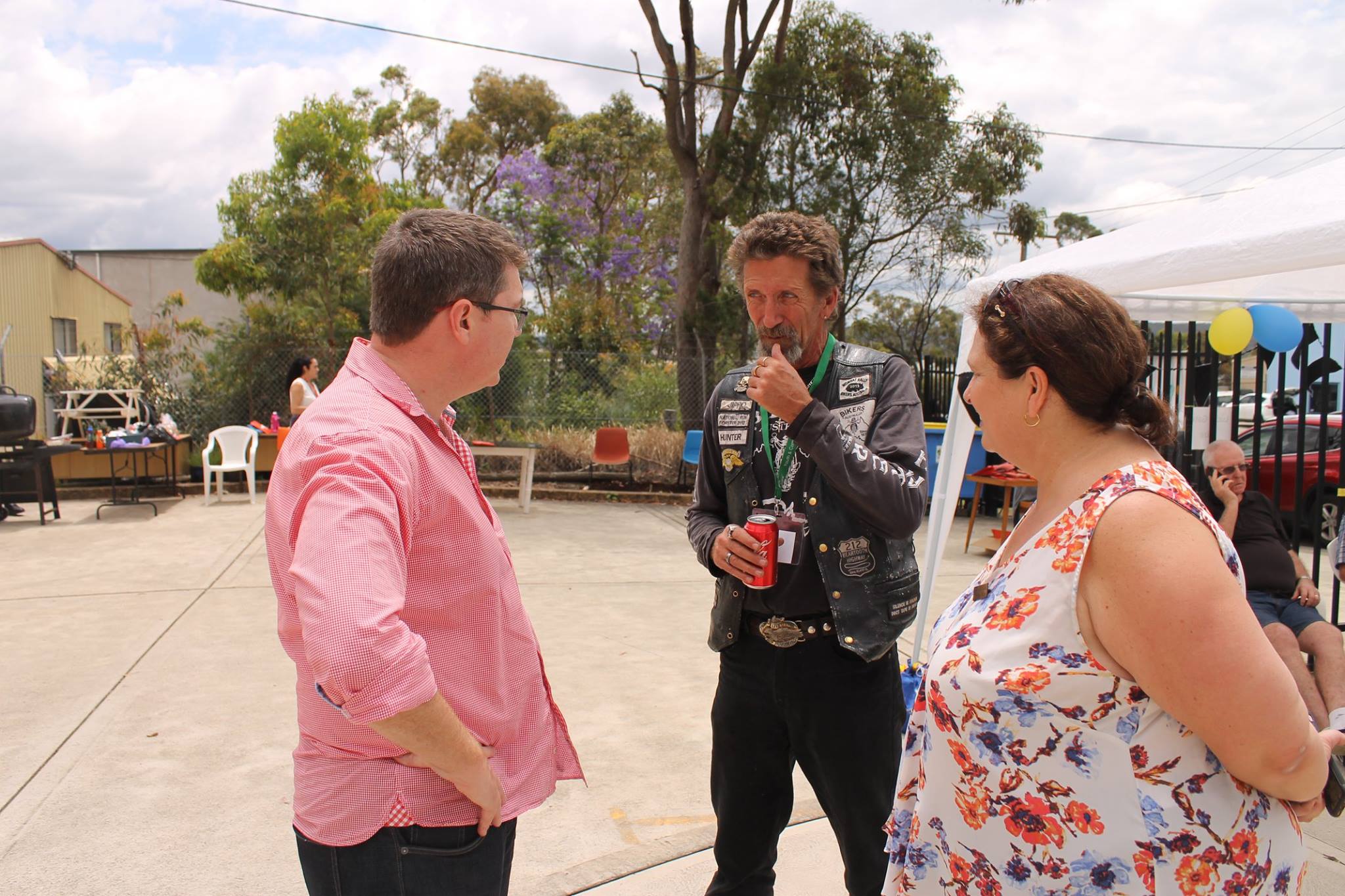 We had a Door Prize for attendees, as well as a few donated prizes (Paintball voucher, Event Cinemas Gift Card, Steggles Voucher, Bunnings Gift Cards, 2 for 1 Trampoline session) for a Raffle for those attending on the Day.
A video was also published on Facebook Live
www.facebook.com/Survivorsrusincorporated/videos/1757321104576314/

| | |
| --- | --- |
| Posted on July 30, 2017 at 9:15 PM | |
Good morning everyone!
We hope that you all had a fantastic weekend and enjoyed the warmer weather.
A big thank you to all those who helped make our Warehouse Sale on Saturday go so well! And a special thank you to the Bikers Australia Hunter Branch for their support on the day!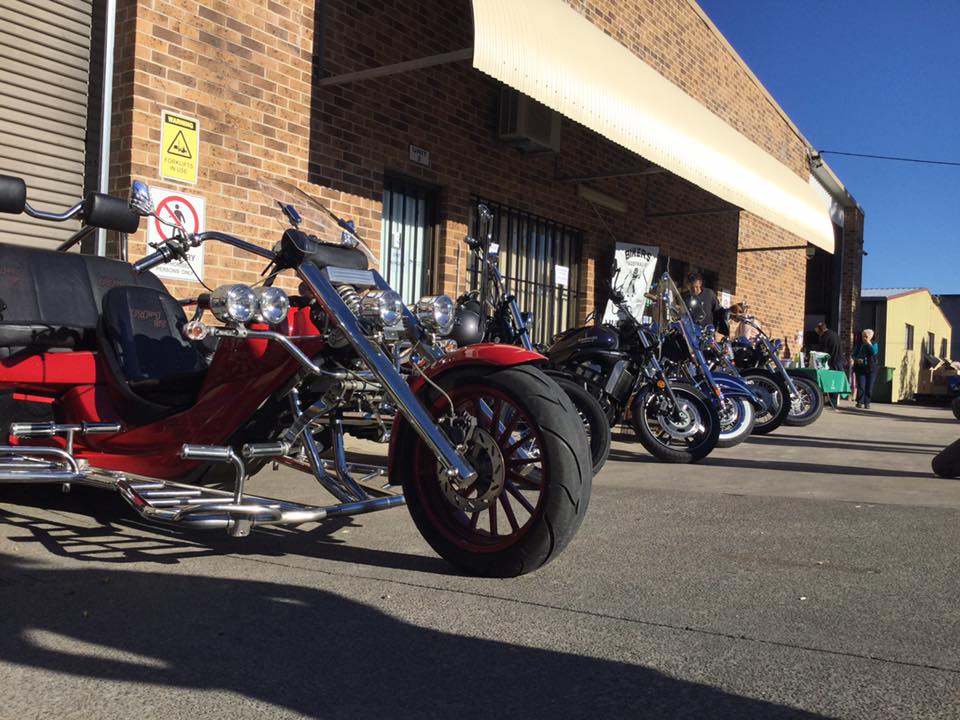 | | |
| --- | --- |
| Posted on July 27, 2017 at 12:05 AM | |
This Saturday, 29th July, Survivor's R Us is having a Garage Sale.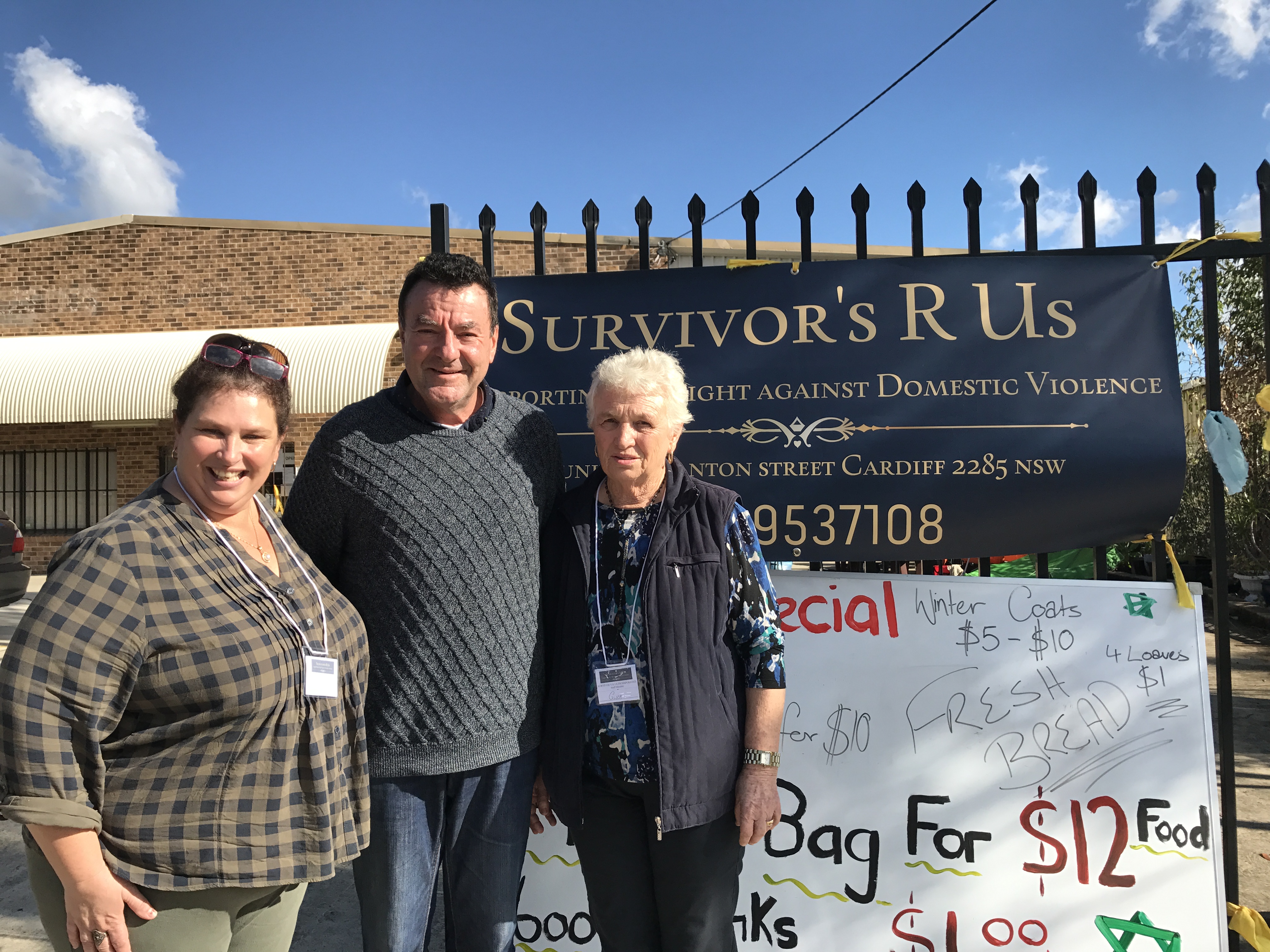 The event starts at 8am to 1pm, and we're also going to have a Sausage Sizzle / BBQ, with $2 sausages and sandwiches, $1 Soft Drinks and Tea/Coffee will also be available. 
The Warehouse will be open for people to purchase preloved and new items, including books, clothing, shoes, bags,  toys, videos and assorted items.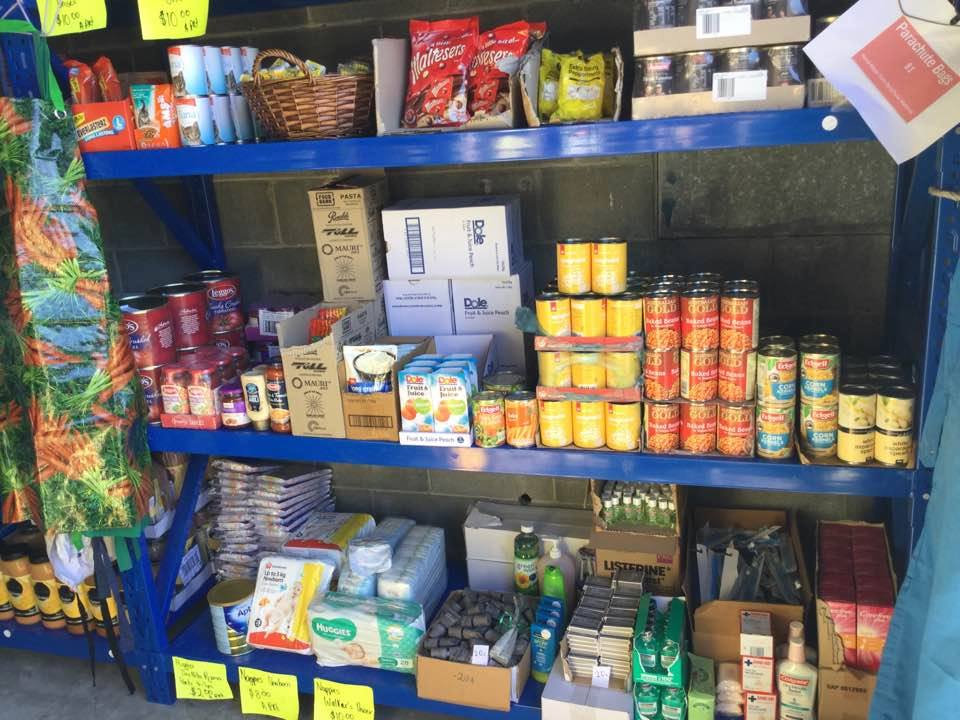 Food will also be available to purchase for $12, including our new handmade reusable bags for $1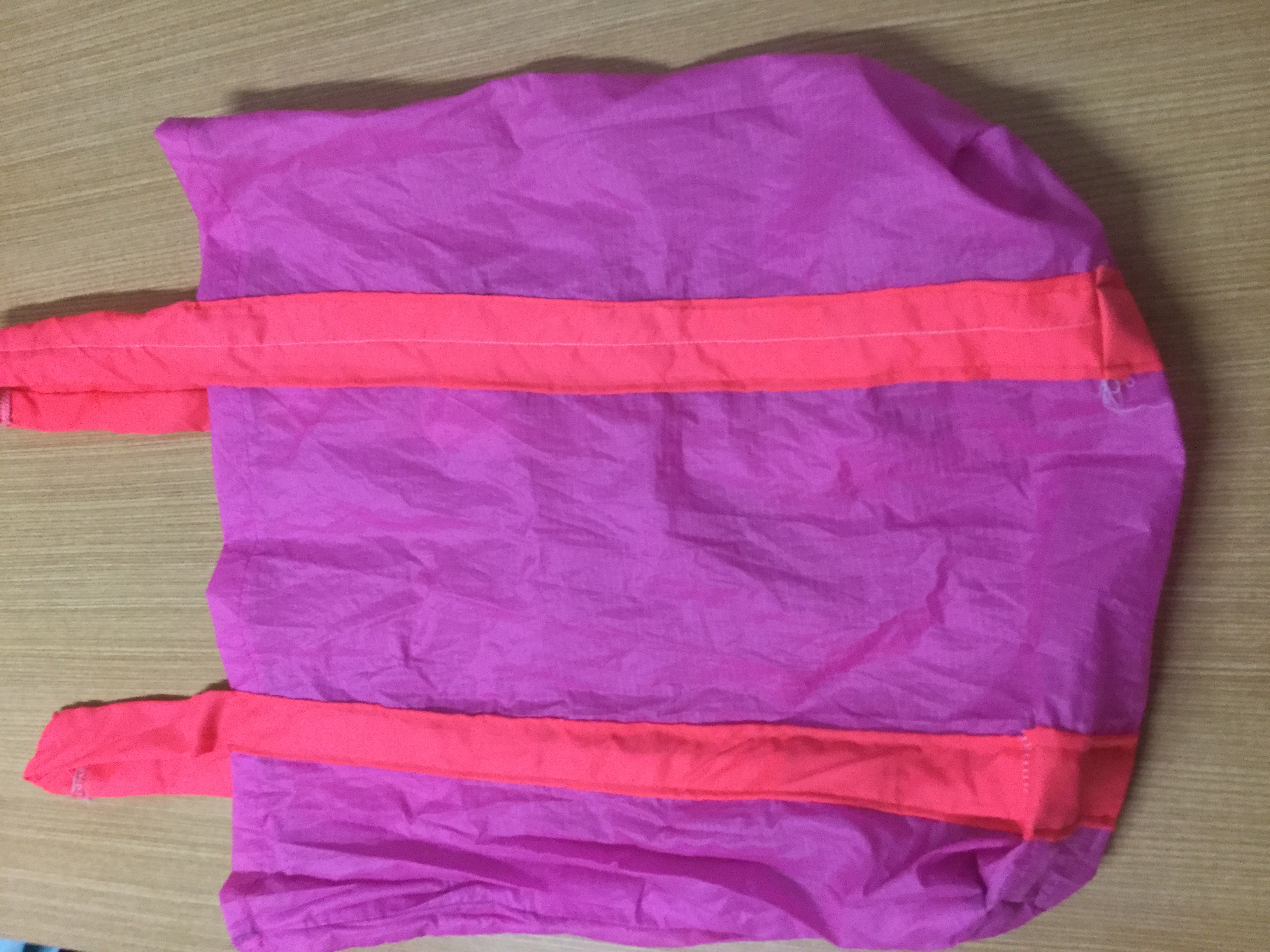 There will also be a selection of stalls, Mel's Crafty Bits, Thermomix, and a range of Handmade Craft items and Gifts for Sale. Members from the local Motorcycle Club will also have their bikes available for photos, Proceeds will be going to help Survivor's R Us Incorporated in assisting members of the local community.

*reminder - Cash Only.*
| | |
| --- | --- |
| Posted on July 20, 2017 at 8:55 PM | |
Survivor's R Us Incorporatred was invited to Zonta International Newcastle and Hunter branch meeting they had a French Night it was an amazing night and it is a pleasure to be working with your organisation. Zonta approached us and asked could we store furniture to help set victims up into there homes so we are so happy to be working with Zonta helping people in the community so far we have helped three families, with furniture and with our food and clothing from our warehouse and sheets and blankets its great to be able to help in the Community .
A huge big thank you to Zonta International Newcastle and Hunter Branch and Brown Sugar Restaurant Warners Bay .
From the team at Survivor's R Us Incorporated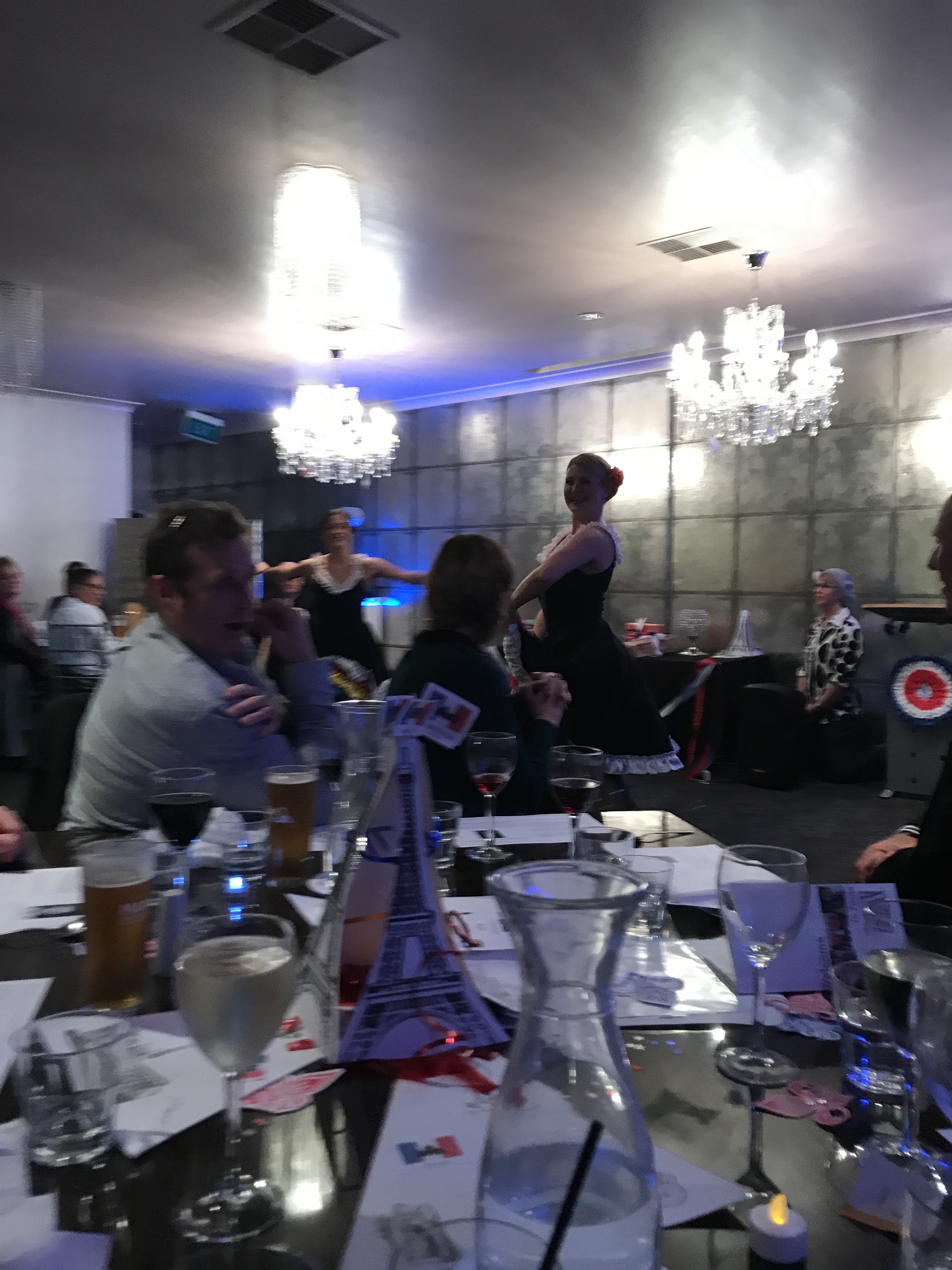 0

/